Home Tutors in Delhi
Almost every student is looking for home tutors in Delhi, NCR nowdays. Home Tutors in South Delhi (HTSD) is a premium name for home tuition in Delhi, NCR. Get tutors for Maths, Physics, Chemistry, Biology, Accounts, Business Studies, Social Studies, Political Science, English, French. For almost all other subjects of Science group, Commerce group, and humanities group. Get the right home tutor in no time for your ward.
Nowadays education is the field in which we see the maximum competition. There was a time when students were dependent on Schools for almost all their academic needs. But nowadays, its almost impossible to rely on Schools and secure good marks. Reasons are different but everybody is looking for home tutors in Delhi. Some students/parents hire home tutors because they are not understanding concepts in Schools clearly. While some hire them because their School is not able to complete their syllabus on time. Some students seek help from home tutors in Delhi because they want to excel in their subjects and their school is not enough to fulfill their requirement.
Home Tutors in Delhi by HTSD
HTSD (home tutors in South Delhi) is one of the oldest home tutor providers in Delhi, NCR. Our institute is completely owned and run by teachers who have vast experience. And these people are experts in their fields. HTSD was established in 2004 to provide home tutors in South Delhi Only but now we are successfully providing services in the whole, NCR.
We cover almost all classes from class one to class 12. We cover all main graduation streams too. HTSD provides home tutors for Maths, Science, Social Studies, English, Physics, Chemistry, Biology, Accounts, Economics, Business Studies, and almost all Humanities subjects.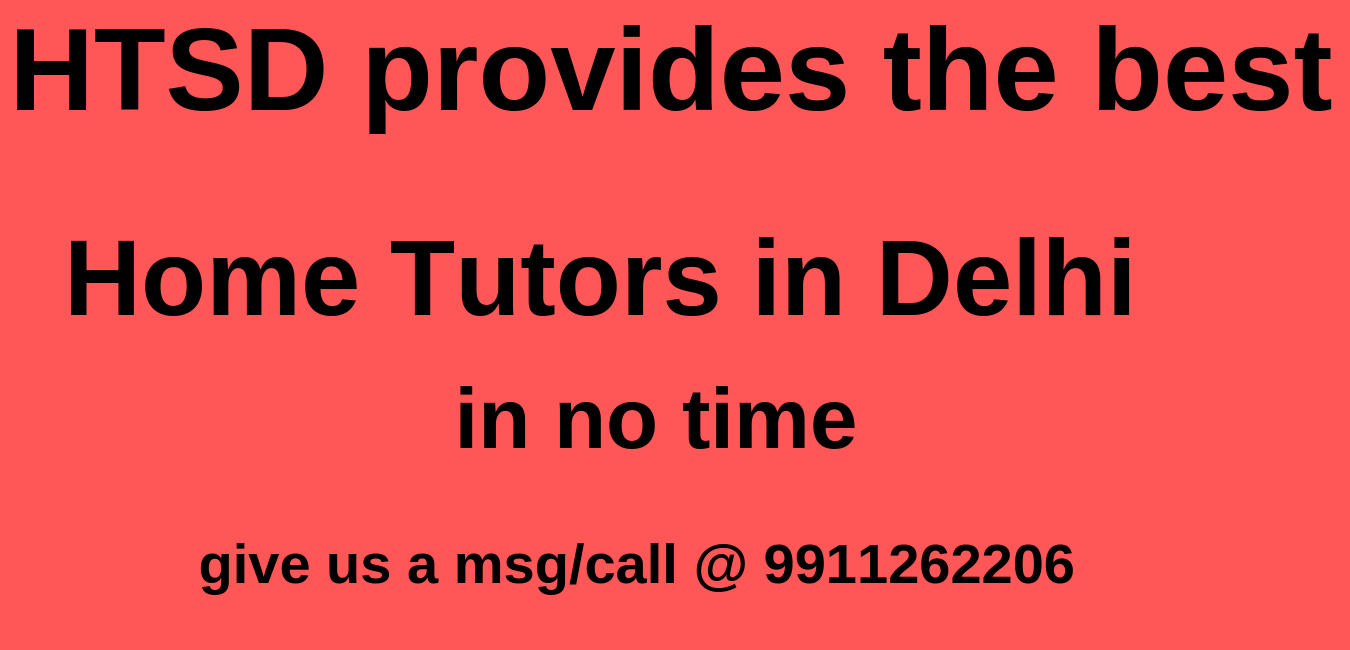 Steps to get the best Home Tutors in Delhi in no Time
We commit our customers that they can get the right home tutor in no time. You can hire the right person by following a very simple  but effective three-step trilogy
1. Fill the form or Message us at the given number
There is a contact form given at the top-right side of the website and also at the end of every page. You just fill that form or drop a message / Whatsapp at the given number mentioning your requirement. And our coordinators will get back to you almost instantly. They will understand their requirement. After talking with you, they will shortlist a set of 3-4 good home tutors in Delhi for you and exchange contact details almost immediately.
2. Talk to the Tutors and fix one-hour free demo session
Once you get the number, you can talk to the tutors. If you are convinced after talking to the tutor, you can invite him /her to your place and ask him/her to provide a demo class to your ward. You should know that this one-hour session is completely free of cost and you have to pay nothing for this. This is just to provide you with the taste of our service.
If you/ your ward is satisfied with the service, you can fix a mutually comfortable time and start your home tuition.
3. Pay directly to the home tutor
As already discussed, we a teacher-centric organization. So we believe we don't interfere unless we are requested by the teachers or by parents. You talk to the tutor and fix the compensation/fee and pay directly to the tutor. We have nothing to do it
Why Choose HTSD
We seek pride in helping our students and in changing our lives through our skills. It provides us with utmost satisfaction. Our home tutors use a few important strategies to make their students triumph in their academic struggle. These unique strategies make our service unique and the most popular among the students and the parents
Trusted and Verified Professionals
We only work with the tutors who provide us with their local (Delhi NCR) address proof and identity proof like a passport, voter id card, Aadhar card or driving license. We request all our tutors to voluntarily submit their id proof and address proof to the person whom they are serving. Majority of our tutors are working with for a long time like 6-8 years and they all are trusted and skilled professionals. Still, we insist our parents to request the tutor to submit his/her identity/address proof to them.
Experienced and Qualified Tutors
Majority of our teachers are from top-notch Schools and coachings of Delhi, NCR. They work as home tutors only after their Schools or on Saturdays and Sundays. All of them highly trained professionals having 10-15 years of teaching experience. Different students have different learning patterns. Some of them learn through instructions while some learn through visuals.
Quick Completion of Syllabus
Quick completion of syllabus always helps a student no matter if he/she is appearing for school exam or boards. Generally, first pre-boards starts in the month of December main Pre-boards start in January because February is reserved for practical exams.
If students complete their syllabus till November, then they can sit in their preboards with full confidence and full preparation. Thus they can check their preparation and take corrective measures if required.
Comprehensive Revision and Rigorous Testing
We can never expect a student to remember the things that she/he has studied in the month of April or May till their final exams in March. So revision very important. And quick completion of syllabus gives both teacher and student enough time to revise each and everything in the syllabus. And revision is the key to getting good marks. The better you revise the more marks you score. Our tutors help students to solve very tough HOTS questions from different books including EXEMPLAR
Rigorous testing is another key feature of our home tutoring service. Our tutors take three different levels of test. First of all, they take a test after finishing a chapter. This helps them to check if the student has understood the concept well or not. Once they finish a unit (generally three chapters), then they take a test for the whole unit. This test helps a student to remember everything through-out the year. These tests are followed by half syllabus tests and Mock tests for full syllabus. Besides this, our home tutors in Delhi advise their students to solve at least ten sample/model papers. Tutors will help students by checking these papers and by telling the students about their errors. We request our customers, the parents, to keep a track of all these activities and tell us in case of any discrepancies
Use of Technology
Technology is changing our lives were rapidly. It is interfering in every field of our life and so is education. Our home tutors in Delhi uses a lot of advanced technology tools in their tutoring service. They provide students latest notes in PDF format. They use high-quality images to make students understand difficult concepts of biology, online graph creators in Economics. Tutors also use powerpoint presentations and animations to explain difficult Maths and Science concepts. We are posting thismany videos on our youtube as a sample.
Transparency in service
As already discussed, we are an organization that is completely run by teachers. Our service is fully transparent. We are quite clear in our terms with the teachers as well as with the parents. From the demo session to the delivery of classes and the collection of payments, everything lies between you and the teacher. We only intervene when you request us to do so. You hire your desired tutor after taking the demo session. You only pay to the tutor after negotiating with him/her. There is nothing to hide. We only charge a small one time amount from the home tutors in Delhi. That's just to make the network running.
Language of Results
We are teachers and we believe that we should speak only one language. That is the language of results. Our home tutors in Delhi constantly work hard to exhibit that our faith is not in vain. Sometimes students enroll with us on a stage when they are already getting eighty eighty-five percent marks and they just want to excel and score more. While some students enroll at a stage when they are very slow and struggling to pass. We have expert tutors for both situations. We assign them accordingly. First of all our home tutors in Delhi patiently analyze the learning pattern of the students. Point out their grey/weak areas and help them to improve them. We assure our students and parents about a few things to achieve great results.
► Timely delivery of service. Regularity of classes
► Quick and complete syllabus completion.
► Comprehensive revisions of the whole syllabus
► Regular testing and timely feedbacks about students progress.
We request our parents to keep a track of all the activities and ask the tutor about student's growth on a regular basis